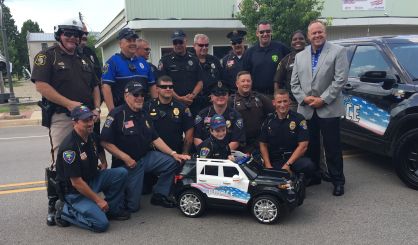 A dream has come true for a young St. Joseph girl.
Seven-year-old Kennedy Arney spent Sunday as an honorary officer with the Three Oaks Police Department, fulfilling a dream she'd had since seeing the Disney movie "Zootopia." Three Oaks Police Chief Dennis Buller and his wife, Dee Dee, made it happen for the best friend of their granddaughter, Zoe Brault, after hearing of Kennedy's diagnosis of juvenile ALS, which is very rare.
In addition to becoming an officer, Kennedy received a battery-powered police car, a police utility belt with handcuffs, a full and official Three Oaks police uniform, gifts from the FBI in Detroit, and letters of congratulations from police departments from Hawaii to New York. She also received patches and other police memorabilia from across the country, including patches from Amtrak Police, the US Capitol Police Department, and U.S. Homeland Security. She said she was "100-percent surprised" by everything on Sunday.
The Bullers organized the event to be held just prior to the Three Oaks Flag Day Parade, which Kennedy and Zoe took part in right in the middle of the police officers at the start of the parade. In addition to raising awareness for juvenile ALS, the family is also raising money through a GoFundMe page at GoFundMe.com/KennedyArney to help pay for medical expenses and medical travel, as Kennedy has doctors in five states from Minnesota to Maryland.