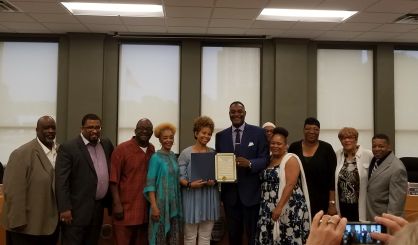 Benton Harbor singing sensation Niki Harris has been honored by the city commission. At Monday's meeting, commissioners saluted Harris as Mayor Marcus Muhammad read off some of her accomplishments, noting she has worked with Madonna, Whitney Houston, and Prince.
"Therefore be it resolved by the city of Benton Harbor, in recognition of your outstanding achievements, present this Lifetime Achievement and Excellence Award," Muhammad read.
Muhammad also noted the many soundtracks Harris has contributed to, along with the touring she did with her father, Gene Harris. Harris thanked the commission for reminding her it's important to participate. The honor came just ahead of this Sunday's Coming Home, Coming Together Concert. It will be at City Center Park starting at 5:30 p.m.