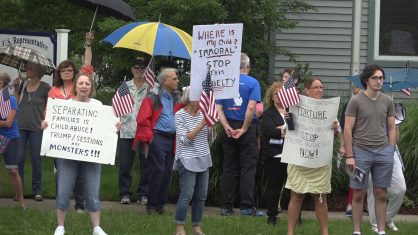 Congressman Fred Upton's office in St. Joseph was the site of a protest Tuesday regarding immigration policy. Specifically, activists gathered to demand that Upton keep his word when it comes to fighting the Trump administration's policy of separating detained illegal immigrants from their children. Protester Sandy Feldman told WSJM News they had a message for the St. Joe congressman.
"I want Fred to know that we're watching, and if he backs away from his supposed stance…we will hold him accountable," Feldman said.
There have been demonstrations outside Upton's St. Joe office each Tuesday almost since the election of President Trump. Feldman told us the separation of immigrant families should be an issue everyone can agree on.