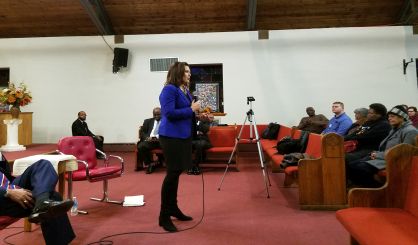 There are more voices calling on the White House to change course when it comes to separating children from their parents at the border with Mexico. Michigan Congressmen Fred Upton, Bill Huizenga and Dan Kildee issued statements slamming the "zero-tolerance" policy being enforced by the White House, and Democratic gubernatorial candidate Gretchen Whitmer is also calling on everyone in the state to put pressure on the U.S. House and Senate to come up with a new law.
"We are better than this in America, we are better than this in Michigan," Whitmer said. "It's on us to put the pressure on our leaders to do the right thing." She added as a mother, she can't think of anything more devastating than what the families are going through. "This threatens our moral high ground and our standing in the world as leaders," added Whitmer.
Homeland security officials say they are still working out the process of reunifying parents with their children after they're separated at the border. Officials said Tuesday that over 23-hundred minors were separated from their parents who were caught trying to come to the U.S. illegally from May 5 to June 9. Trump administration officials adopted a 'zero tolerance' policy at the border where they are arresting anyone who crosses illegally. Because children can't go to jail with their parents, they are being separated. About 50 have been shipped north to Grand Rapids, where they're in foster care through Bethany Christian Services. That agency also opposes what the federal government is doing.