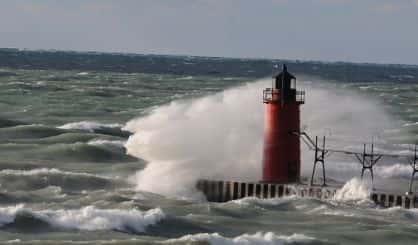 The South Haven City Council is reviewing an Abonmarche study regarding waves on the Black River. High lake levels and winds are causing damage to boats docked at some marinas on the Black River. Harbormaster Kate Hosier spoke with WSJM News about the issue.
"There is substantial erosion damage that is being caused by the high wind and the high waves," Hosier said. "I can't underscore enough the economic impact of the harbor on the city of South Haven."
There are 1,200 boat slips in the South Haven Harbor and the city doesn't want boaters to be afraid to dock at the marinas. The city will continue to work on the best of five concepts to attenuate the waves and work on a funding strategy for the four to five million dollar cost, hopefully within five years.