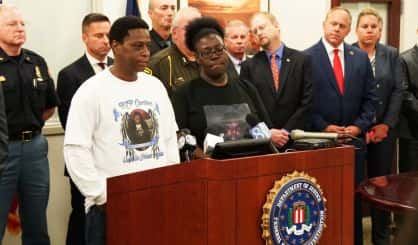 Antwan "Tank" Mims of Benton Harbor is now on the FBI's "Ten Most Wanted Fugitives" list for two murders on March 25 at a house party. The FBI's Jeffrey Downey says Mims walked up to Cortez Miller and Michael Johnson and shot them in front of about 100 people.
"According to witnesses, both victims were lying on the ground injured when Mims calmly approached them and callously shot Miller in the back of  the head and Johnson in the face and slowly walked away, demonstrating his arrogance and lack of concern for human life," said Downey. A federal arrest warrant was issued May 2, as Mims had fled the area to avoid prosecution. The FBI has increased the reward for information leading to his arrest and conviction to $100,000. Mims has known ties to Indiana, Illinois, Georgia, Ohio, and Tennessee, but police say they're hunting for him worldwide at this point.
Miller's father, Brian Miller, is urging those who know the suspect to call in tips. "It don't make you a snitch, you know, trying to help solve something that needs to be solved," he said at a Wednesday press conference. Berrien County Prosecutor Mike Sepic says they want Mims behind bars, but authorities also want more.
"What the goal is, is justice for the victims," said Sepic. "We believe him (Mims) to be extremely dangerous, wherever he is, and if he's in our community, he needs to be caught."
More information on him is at FBI.gov. Mims is the 519th person to be on the "Ten Most Wanted Fugitives" list, and the FBI says they have a 95% success rate in catching those people.
Photo is Brian Miller at podium during Wednesday press conference. Credit: Pat Moody.