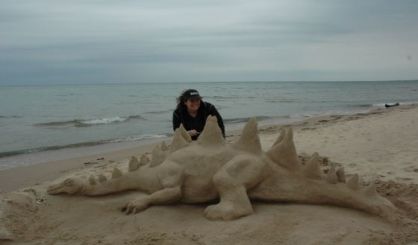 She is sometimes known as the Sand Pirate, and she's perhaps southwest Michigan's most renown sand sculptor. Janet Moore Schrader tells WSJM News she started sculpting with sand after winning a battle with Non-Hodgkin's Lymphoma in the early 2000s. She found it therapeutic to go down to the beach in Chikaming Township where she lives, and eventually became an expert at making art with sand. Since then, she's become known around Bridgman, helping the local schools raise money for a STEM program.
"The mayor made a declaration, and they gave me the title of Sand Sculpting Laureate, and then they put up a 10 by 20 sandbox for me to use as an art studio," Schrader said.
This Friday evening, you'll be able to see Schrader in action as part of the Bridgman Family Friday Fest. She'll be out on Lake Street near the railroad tracks with a giant sand castle of her construction from 6 to 7.
"Then about maybe a quarter to 7, for a donation, I'll teach you how to make a cannonball out of sand, and you can lob it at the castle because it's all coming down," Schrader said.
Schrader has another studio at 9792 Red Arrow Highway, and tells us she offers sand sculpting lessons at things like corporate team building events. You can find out more at SandPirate.net.