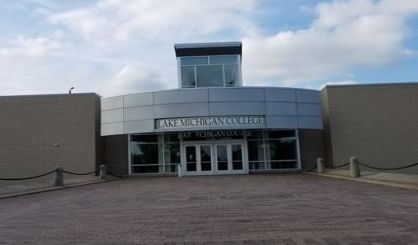 High marks for Lake Michigan College President Trevor Kubatzke. At a meeting this week, the LMC Board of Trustees gave Kubatzke a positive performance evaluation. President Michael Lindley told WSJM News since Kubatzke came on in April of last year, he's proven to be a strong leader.
"He's doing a very good job of connecting," Lindley said. "We think he's a cheerleader for the college, he's very pleased to be here, and the most important thing that we said tonight is that he is student-centered, and we don't say that lightly."
Lindley said Kubatzke gives credit where it's deserved, and also cited the acquisition of the Western Michigan University Southwest building as a key accomplishment of the new president. Kubatzke told us he's had a good first year.
"Over the last year, I've been in every community," Kubatzke said. "I've talked to hundreds of people related to the college, people who just know of the college, student, faculty staff, and it's just very true that this college is vital to our communities, and our communities are vital to the college."
Kubatzke's contract will now be extended for another year, taking him into 2021. Also Tuesday, the board approved the budget for fiscal 2019. Both revenues and expenditures are expected to come in around $33 million, with LMC $29,000 in the black.