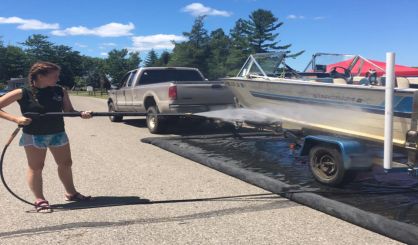 Boaters are being reminded of their role in helping to stop the spread of invasive species this summer. The Van Buren Conservation District's Eleanor Serocki tells WSJM News you must wash your boat after it's been used.
"It is illegal in the state of Michigan to drive down the road with any plants off your boat so you want to make sure you do that," Serocki said.
Free boat wash stations are being provided at various locations throughout southwest Michigan this summer. The South by Southwest Corner Cooperative Invasive Species Management Area will host a boat wash this Saturday at the Wolf Lake Visitor Center Landing Blitz in Mattawan. On July 13, it will be at Harmon Park in Cassopolis. The boat wash station will also visit South Haven on August 2 and St. Joseph on August 3.