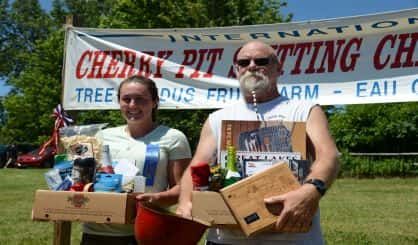 Rick "Pellet Gun" Krause once again holds the wining title from the annual International Cherry Pit Spitting Championship. The event was held this past weekend at Tree-Mendus Fruit Farm in Eau Claire for the 45th year in a row. The event's Lynn Sage tells WSJM News Pellet Gun came all the way from Arizona this year to spit a cherry pit more than 41 feet and eight inches.
"Pellet Gun returns every year to try to defend his title or to try to regain his title," Sage said.
Coming out on top for the Women's Championship was Pellet Gun's wife, Marlene "Machine Gun" Krause, with a spit of just over 29 feet and ten inches.
"She's quite a spitter herself," Sage said. "They were actually married on the court about 22 years ago."
Pellet Gun's son, Brian "Young Gun" Kraus, holds the world record for spitting a pit more than 93 feet in 2004. The winners in the pit spitting championship receive gift boxes from local businesses, in addition to the fame and title rights afforded each division for the year.