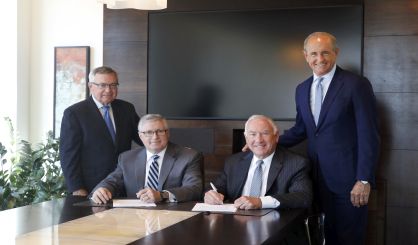 A major change is coming to Lakeland Health. It announced on Wednesday it is integrating with Spectrum Health out of Grand Rapids. Lakeland CEO and President Loren Hamel tells WSJM News the much larger Spectrum will bring several new assets to Lakeland, improving care. Lakeland will become a division of Spectrum.
"This involves being fully integrated, being fully part of Spectrum, being fully part of Spectrum Health," Hamel said. "On the other hand, we will retain some autonomy and retain some local influence and control over the local healthcare that's delivered."
Local Lakeland facilities will still be called Lakeland, but they'll have the Spectrum brand. Hamel tells us the quality and cost of care will improve for patients.
"Lakeland works hard to deliver valuable healthcare every day, but there are just some things that we can't afford," Hamel said. "We don't have a health plan. They have a health plan that is the second largest in the state of Michigan after Blue Cross-Blue Shield."
Another example is transplants, which Hamel says is something Lakeland never could have offered. Spectrum has 26,000 employees and 12 hospitals, while Lakeland has 4,000 employees and three hospitals. The boards of the two will be working out details of the new arrangement with a goal of having it all settled by October 1.
Photo caption (left to right): Dan Hopp, Chair, Lakeland Health Board of Directors; Loren B. Hamel, MD, President & CEO, Lakeland Health; Richard Breon, President & CEO, Spectrum Health; Richard DeVos, Chair, Spectrum Health System Board of Directors