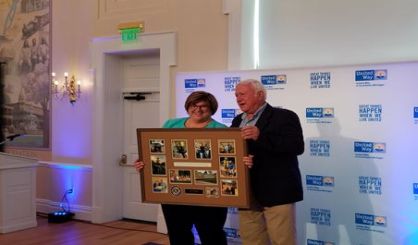 The winner of this year's United Way of Southwest Michigan Margaret B. Upton Volunteer Leadership Award is Jerry Flenar of Buchanan. He was among those honored for their community service at the United Way's annual Volunteer Recognition Event Wednesday night in St. Joseph. Flenar has a lifetime of donating time and services throughout the community. We asked him why he serves.
"The town of Buchanan is always been good to us, the employers I've worked for were always good to us, and I believe in the motto of giving back," Flenar said.
Special focus at the event was put on the hundreds of volunteers who helped with flood clean-up in Berrien Springs and Niles this year. The United Way's Anna Murphy told us more.
"It was an amazing outpouring of compassion and the desire to help people that they didn't even know," Murphy said.
Also Wednesday, Pat Winans with the New Heights Christian Community Development Association received the Emerging Volunteer Award, and Margaret O'Neil with Meals on Wheels received the Sustaining Volunteer Award. Finally, the winners of the Live United Youth Scholarships were announced. They go to Kailey Skarbek of Niles High School and Nick Bradley of Edwardsburg High School for their volunteer efforts. Murphy told us the more volunteers a community has, the better off it will be.
Pictured: United Way of Southwest Michigan President Anna Murphy and Margaret B. Upton Volunteer Leadership Award winner Jerry Flenar.