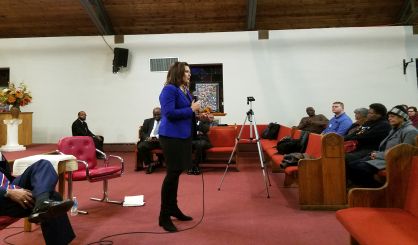 As the August 7th primary approaches, Democratic gubernatorial hopeful Gretchen Whitmer is releasing her plan to fight urban poverty. It includes her support for regional transit, the effort to cut auto insurance rates, and expand affordable housing. Whitmer, who served in Lansing in the House and Senate for several years, was asked why she didn't try to fix those pressing issues during her time in the Legislature.
"Unfortunately, I was the leader of the resistance. I was in the minority the whole time," said Whitmer. "I was the one who flew open the doors to the Capitol and led the fight against (Republicans) attacks on collective bargaining. I'm the one who went to the microphone and told my story as a sexual assault survivor when womens' health was under attack."
Whitmer is at 49% in the latest EPIC-MRA poll, compared to 22% for Shri Thanedar and 19% for Abdul El-Sayed. She also is ahead of Republican Attorney General Bill Schuette in a head-to-head poll of the front runners for the November election.