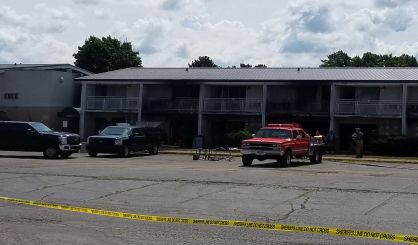 The American Red Cross has set up a temporary shelter for those who were displaced by a motel fire in Sodus Township early Saturday morning. Six people were killed in the blaze at the Cosmo Extended Living Motel on M-139. They were a 26-year-old woman and her five children. Berrien County Sheriff Paul Bailey spoke with WSJM News at the scene.
"Our prayers are with the family and friends," Bailey said. "It's just a tragedy."
The initial investigation indicates the fire broke out in a first floor unit about 1:45 a.m. Berrien County Sheriff's Department Chief Deputy Robert Boyce tells us the cause of the fire remains under investigation by the Berrien County Sheriff's Department, the Michigan State Police Fire Marshal, and the federal Bureau of Alcohol, Tobacco, and Firearms. Boyce said they have to consider and rule out all possibilities.
The motel has been evacuated. 27 of its units were occupied when the fire broke out. Of those who were displaced in the fire, 16 were staying at the Red Cross shelter set up at Upton Middle School as of early Saturday afternoon, while others were with friends or family.
"The American Red Cross is working on longer-term solutions for these displaced individuals," Boyce said.
Boyce said the preliminary cause of death for the six people killed is smoke inhalation, and autopsies will be performed Sunday at Western Michigan University. Whether the motel had a working sprinkler system and smoke detectors is still under investigation. Boyce said the hotel's owners are cooperating.
The sheriff's department has identified the victims as:
Kiarre Samuel, age 26
Marquise Thompson, age 10
Gerome Randolph, age 7
Samuel Curtis, age 5
Savod Curtis, age 4
Avery Curtis, age 2
Four other people and four first responders were treated at Lakeland Hospital in St. Joseph for smoke inhalation.