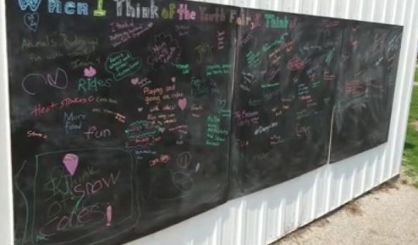 Now in full swing in Berrien Springs is the 2018 Berrien County Youth Fair. The rides opened up Monday evening, just in time for Kids Day on Tuesday. That's when the kids through high school age got in for free. Tuesday also featured a corndog eating contest between 98.3 the Coast's Jonny and The Herald Palladium's Tony Witkowski. They attempted to eat five corndogs in five minutes. For Johnny, it wasn't easy going.
"I'm about to get the meat sweats," Jonny said.
The two failed to beat the five minute mark, but they did finish their corndogs. Witkowski won. The mainstage event Tuesday was Circus Continental, sponsored by The Coast. Wednesday night brings a performance by country duo LoCash sponsored by Y Country Radio. Thursday features the truck demolition derby, while the car demolition derby will be Friday. Everything wraps up with Saturday's Bullmania. You can find out more at BCYF.org.