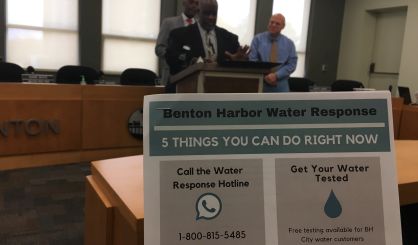 The city of Benton Harbor is working with the Berrien County Health Department and the state Department of Environmental Quality to get the word out about lead in the city's drinking water that was found above the federal action level of 15 parts per billion at 8 homes of the 30 random samples taken this year. Dr. Rick Johansen of the Berrien County Health Department says they're issuing guidance to parents of babies out of an abundance of caution.
"Infants should not have their formula made with the water. Parents should use bottled water just as an extra precaution," said Dr. Johansen. "Breast feeding poses no risk to a baby if the mother's drinking city water."
He adds there is no evidence any children or adults have elevated levels of lead in their blood, and those numbers have been trending lower for the past few years. Mayor Marcus Muhammad was adamant this is not anywhere near like the Flint water crisis, during which people were hospitalized and got very sick.
"We haven't received anything from (Spectrum Health) Lakeland or any of the medical facilities that there's an uptick or there's issues where people are being admitted because of lead poisoning," said Muhammad.
The city is using state grant money that came in earlier this year for water infrastructure to offer free water testing kits for any homes and businesses that get their drinking water from Benton Harbor. The water testing kits will be available starting Thursday at 200 Paw Paw, and city officials say they'll offer that service for as long as needed. Officials stressed the water is safe for bathing and the while they haven't pinpointed the cause, believe the high levels of lead are likely due to galvanized and lead service lines that were used decades ago to connect homes to the city system.
"We're working with the Department of Environmental Quality to conduct a full assessment of the water system, which includes additional water quality testing, source water monitoring, and an investigation into corrosion control treatment methods," added City Manager Darwin Watson. WSJM News asked Watson for the locations of the eight homes with elevated levels of lead, which he says they cannot disclose but did say they are scattered throughout the city and there is no pattern. All eight are single-family homes, and the city is providing those families with free bottled water.
More information on the lead issue is available at the city's website, the DEQ website, and the Berrien County Health Department website.
Wednesday's press conference will be posted this afternoon as a podcast on WSJM.com.