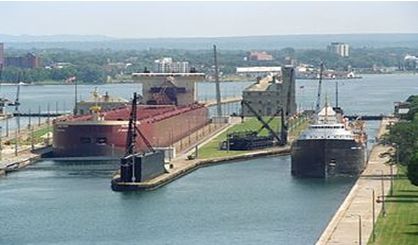 $32 million has been awarded to the new Soo Lock project in Sault Ste. Marie. The U.S. Army Corps of Engineers tells us the money is in the fiscal year 2019 work plan. Soo Lock Project Manager Mollie Mahoney spoke with WSJM News about the plans.
"The $32 million that has been appropriated for the new Soo Lock in the fiscal year 2019 work plan will allow us to complete the design and partial construction of upstream channel deepening," Mahoney said.
Right now, there is only one lock big enough for large lake freighters, the Poe Lock. If it were to fail, Great Lakes shipping would be greatly harmed. Mahoney says this new lock will be built over two of the old ones.
"The new lock will be constructed within the footprint of the Sabin Lock, but the new lock is 30 feet wider than the Sabin Lock and about eight feet deeper," Mahoney said.
The $32 million announced Monday gets a start to the new Soo Lock project, which is estimated to be finished in seven to ten years. Mahoney says its total cost is estimated to be around $1 billion. Congressman Fred Upton says Monday's announcement is good "progress being made for this vitally important project."