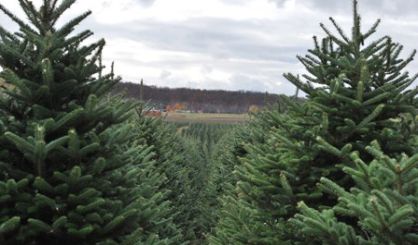 More than 500 Christmas trees for soldiers on U.S. military bases have been shipped out from Wahmhoff Farms Nursery in Gobles as part of the Trees for Troops campaign this year. The farm's Betsy Perales tells WSJM News volunteers loaded up the trees Monday.
"Between two Fed Ex trailers, we had 500 — and I think the number was 531 or 532 trees loaded," Perales said.
Wahmhoff Farms is a local drop off point for the national Trees for Troops program. Perales says it feels great to do something for those serving to protect the country.
"We've gotten messages from the bases they've posted on our Facebook page, thank yous, and we've gotten some handwritten thank you cards mailed to us here, just appreciative of everybody that's part of the program, and what a blessing it is for them to have a tree to celebrate," Wahmhoff said.
Despite Monday's snow storm, Perales tells us about 50 volunteers showed up to load the trees and send them off to Camp Lejeune New River in North Carolina. Farms from all over the region shipped out their trees from the Gobles location.