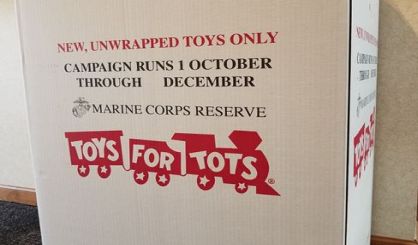 The annual Toys for Toys drive gets underway this weekend.
The effort to collect new, unwrapped toys for kids officially starts with a drive at Martin's in Stevensville on Saturday morning. The Twin Cities Toys for Tots Campaign will be there from 7 to 10 a.m. taking items, and 98.3 the Coast will also have a team broadcasting live from the site.
Every holiday season, the U.S. Marine Corps Reserve collects toys throughout the United States. Locally, the Marine Corps League helps in the effort. The Marine Corps League's Scott Pauley tells us the items donated in northern Berrien County will be distributed to kids through the Salvation Army and the Southwest Michigan Community Action Agency. He notes the drive tends to have more trouble collecting toys for the older kids, the ones in their teens.
The Toys for Tots effort will continue through Christmas Day, and many Berrien County businesses are serving as drop-off points. We have a list of drop-off points below.
Dollar General Stevensville
Ace Hardware Stevensville
Amer Legion Post 568 Stevensville
Martin's Stevensville
Martin's St. Joe
Walgreens Lakeshore HS
Lincoln Twn Hall Stevensville
Dry Eye Center of SWM Stevensville
Simple Computer Repair Stevensville
Pater True Value M 139
Watermark Brewing Co. Stevensville
Express Employ Profess Stevensville
Ace Hardware St. Joe
Walgreens St. Joe
Horizon Bank St. Joe Dntwn
Horizon Bank South St. Joe
Lakecrest Apt South St. Joe
REVA Saloon South St. Joe
Chili's Bar & Grill St. Joe
Dairy Queen St. Joe
Compassionate Healing Massage St. Joe
Dairy Queen Stevensville
Midwest Glass & Mirror Stevensville
South Shore Raquet Club South St. Joe
Walgreens Lincoln Twn
Lakeshore Shell Stevensville
Walgreens Benton Harbor
WSJM Radio Benton Harbor
Care Dentistry Benton Harbor
Bistro Cravings Benton Harbor
Healthy Harbor Benton Harbor
WAVE Benton Harbor
Hilton Garden Inn Benton Harbor
5 Below Benton Harbor
LeValley Auto Benton Harbor
Kustom Tattoos Benton Harbor
Gast Benton Harbor
Arclight Brew Co Watervliet
Coldwell Banker Coloma
Cutting Corners Coloma
(M Dot)* Coloma
Coldwell Banker Red Arrow
Coldwell Banker St. Joe
Renaissance Ath Club Benton Harbor
Honda Motorcycle Benton Harbor
Farmer's Insurance Stevensville