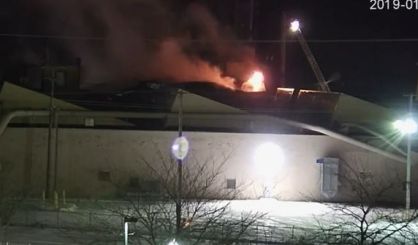 A huge fire at a furniture factory in Dowagiac Sunday night remains under investigation. Deputy Fire Chief Robert Smith says six fire departments battled the fire at Ameriwood Industries. Smith says the fire was caused by an explosion in the auger system, but the flames were contained to that area. No one was injured.
"There's an auger system that takes sawdust from a hopper to a boiler system where they burn it for heat," Smith explains. "The auger system had an explosion like a dust explosion at grain mills. Sawdust can do the same thing."
Investigators are assessing the damage, but Smith says the fire was contained to the boiler-sawdust hopper area.
Photo is a screen capture from IT3 Computer, Networking, Security at AllWebInfused, which has live cameras in several communities across the region.