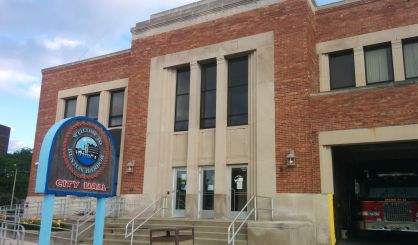 Benton Harbor City Commissioners are now talking about how to spend the money being generated with the city's new income tax. At a meeting this past week, the commission heard from Abonmarche President Chris Cook, who gave a presentation on the first proposal for street repairs to be paid for with the funds. Using an estimate of $1 million per year, Cook said about half would be for major streets and half for neighborhoods. For example, major streets possibly getting cape sealing in 2019…
"Empire, Highland, McCord, Broadway from Clay to Empire, Pipestone from Empire to the city limits, and then Ninth Street,. Riverview Drive, and the westernmost part of Main Street," Cook said.
That's just the majors. Cook read off several neighborhood streets as well. They included parts of Catalpa, Weld Street, Parker, Columbus, Bishop, and Thresher. Some commissioners and some residents on hand felt the proposal focused too much on the major streets, particularly near downtown. Mayor Marcus Muhammad said the city commission has final say and now must plan.
"Once we collect all of the money, then we'll know what we have to spend and where we can spend it," Muhammad said.
Muhammad also cautioned the income tax money being generated for streets is still a small fraction of what's needed. The proposal looks at 2019 through 2020. Cook said an efficient way to spend is to maintain streets currently in decent shape rather than waiting until they need reconstruction. He also said seeking bonds in anticipation of tax revenues is an option. With 72% of local streets in poor shape, commissioners will have much to discuss in the coming months.