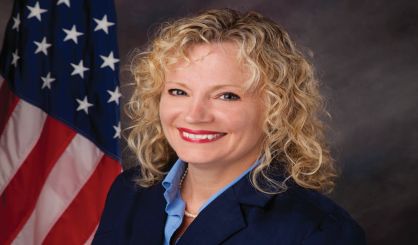 A dispute between Governor Gretchen Whitmer and legislative Republicans over the reorganization of the Michigan Department of Environmental Quality was resolved this week with a compromise, something being hailed by state Representative Beth Griffin. The Mattawan Republican tells WSJM News the governor had issued an order to reorganize the DEQ while also eliminating three review commissions set up last year by the Legislature. On Tuesday, Griffin says she introduced a resolution asking the governor to resubmit the plan without dropping the commissions, and that's just what happened.
"I was privileged to be able to drop the resolution because I understand — as the governor does, and the speaker of the House does, and Senate Majority Leader Shirkey — we all have to be talking to each other," Griffin said.
Griffin says within a few hours, the governor was negotiating with House Speaker Lee Chatfield.
"Kudos to the governor and the speaker for reaching a conclusion based on an honest negotiation with both people at the table," Griffin said.
The governor agreed to keep two of the commissions. Griffin tells us the governor will still reorganize the DEQ, as is her purview. Meanwhile, the Legislature's action will largely stand, as she says it should.