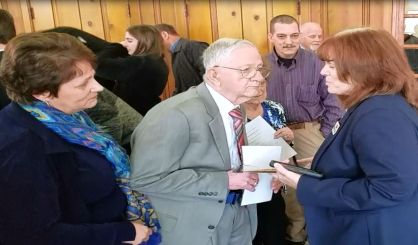 A former member of the Berrien County Board of Commissioners has been honored by having a conference room at the county administration building named for him. Kenneth Wendzel served on the county commission from 1969 to 1998 with nearly 20 years of that spent as chair of the finance committee. At a Thursday dedication ceremony, speakers including Berrien County Judge Dennis Wiley talked of their time working with Wendzel, remembering his fiscal conservatism and ability to get along with anyone. Commission Chair Mac Elliot served with Wendzel from 1985 to 1998.
"There isn't going to be another Ken Wendzel," Elliot told WSJM News. "No one's going to do what he has done for the county at a critical time in terms of the financial health of the county back when interest rates were sky high in the 80s. He really helped get us through all of that, and we all owe him a debt of gratitude."
Commissioner Jon Hinkelman has known Wendzel his whole life, and told us it was an honor to be there for the ceremony.
"He is the beacon that you look for in life, he's that moniker that you want to aspire to," Hinkelman told WSJM News.
Conference Room 4C is now named for Wendzel. That's the room where the finance committee meets. Wendzel spoke at Thursday's dedication, and reminded commissioners it's important to never buy anything they can't pay for.