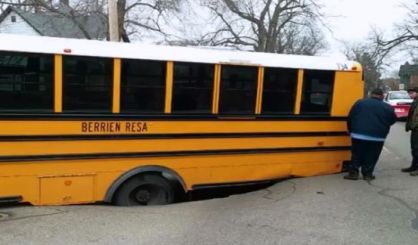 Benton Harbor City Manager Darwin Watson is saluting city staff for their quick work to fix a sinkhole that caught a school bus last week. On Friday, the First Student bus carrying Berrien RESA students got stuck in the sinkhole on Highland Avenue near Hall Park. At Monday's city commission meeting, Watson said public safety officers and the DPW got the kids off the bus, the bus out of the hole, and then addressed the broken water line that caused the sinkhole.
"Once that was done in less time than 24 hours, that road was restored," Watson said. "The water line was fixed, the storm drain was fixed. Anything that was done was restored, and it was passable by noon the next day."
Watson said a problem came to the city's attention on Friday when nearby residents lost water. Not long after, the school bus drove over the area of the break, causing the pavement to cave in. Watson said this wasn't a matter of neglected infrastructure, but an ordinary water line break.