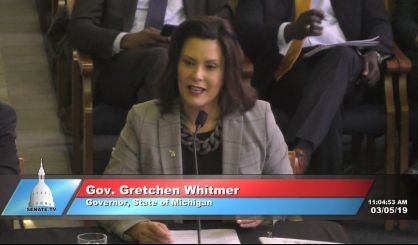 Governor Gretchen Whitmer is laying things out bluntly regarding the state's crumbling roads and struggling educational system. In revealing her proposed budget before a joint session of the House and Senate Appropriations Committees, Whitmer says 78% of the state's roads are rated at good to excellent condition, well below the industry standard of 90%. She says it will take $2.5 billion more than what is currently being spent to get to the 90% level.
"I propose raising the fuel tax 15¢ a gallon every six months from October 1 of this year to October 1 of next," Whitmer said. "With this kind of investment fully implemented, the average driver will spend $23 a month."
To offset that, Whitmer is proposing doubling the Earned Income Tax Credit, which will save eligible families $30 a month and repealing the pension tax. She says other savings will come from fewer car repairs, calling vehicle repairs the worst sort of road tax, because it doesn't fix the pavement. Budget director Chris Kolb says the road package passed in 2015 only slowed the decline, and did not address the root problems with infrastructure.
The budget includes $10.7 billion in the General Fund, which covers things like police, roads, infrastructure and more. Whitmer says that number "is the same size as it was 20 years ago. Let that sink in." Governor John Engler's 1990 budget had a General Fund of $10.7 billion, which dropped to $7.7 billion at its lowest during the recession and Governor Jennifer Granholm's second term in 2010. Governor Rick Snyder gradually increased General Fund spending from $8.8 billion in 2011 to $10.6 billion in this current fiscal year. Whitmer says had the budget kept up with inflation since 2000, the General Fund budget would be $16.1 billion and she added everything costs more than it did 20 years ago.
The governor noted no one likes or wants to raise taxes, but says it's an unfortunate reality.
On education, she proposes a $507 million increase for K-12 schools, which will raise per pupil spending between $120 and $180 for basic classroom and operational expenses.
The overall budget is for $60.2 billion, a 3.6% increase from the current fiscal year. Lawmakers will now begin debating the plan and undoubtedly will make changes to her proposal. Both Whitmer and the Legislature have said they want to continue the trend started by former Governor Snyder of having the budget passed and signed into law by early summer to give school districts and local governments certainty when it comes to state funding.
The budget plan can be viewed by following this link. Whitmer's presentation can be found here.