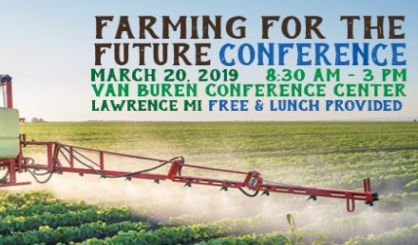 The Van Buren Conservation District is taking registrations for its annual Farming for the Future conference, which is set for this month. The district's Colleen Forestieri tells WSJM News the day-long events are intended to help local growers learn about environmentally-responsible methods they could be using.
"We always focus on conservation-type topics where we're looking at protecting water quality, reducing inputs, just being a little bit more efficient on the farm and reducing our impact off the farm," Forestieri said.
Forestieri says this year's guest speaker will be Gary Zimmer, a Wisconsin-based agricultural consultant who will talk about alternative practices. The day will feature information for all kinds of growers, and there will also a discussion on soil health. Forestieri tells us more than 100 farmers usually attend, and it's all free. The event will be held in Lawrence on March 20. You can register here.