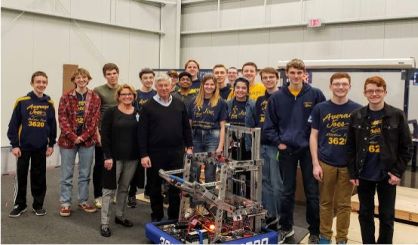 Just a few weeks after it was dedicated, Congressman Fred Upton has paid a visit to the new robotics facility at St. Joseph High School. He stopped by the Edward J. Todd Innovation Center Monday. Upton tells WSJM News FIRST Robotics is a program that helps kids apply their science, technology, and math skills.
"Knowing that the St. Joseph Public Schools Foundation was able to find the funds to build this new building on the back side of St. Joe High School and to see what our kids are doing, we just wish that we'd had that for us older adults," Upton said.
The Robotics Innovation Center serves as a home for the St. Joe FIRST Robotics team, the Average Joes. Upton's office tells us the St. Joseph FIRST Robotics District Competition was this month, and the FIRST Robotics State Championships are next month.