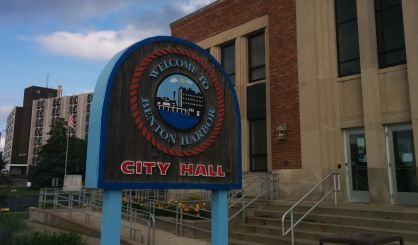 Benton Harbor is building forward. That was the message of Mayor Marcus Muhammad as he delivered his annual State of the City address this past week. Speaking at the Benton Harbor Public Library on Tuesday, Muhammad said the city has come a long way since being under state control, pointing to five years of positive fund balances.
"The fifth consecutive year that revenues have exceeded expenses of the city of Benton Harbor," Muhammad said. "This is the fifth consecutive year that the city of Benton Harbor has a balanced budget."
The mayor credited city staff with avoiding many problems that plagued the city in the past.
"To pull the city out of the muck and mire of payless paydays, checks bouncing, commingling of funds, better known as robbing Peter to pay Paul."
Muhammad pointed to recent developments in Benton Harbor, including steps taken to clean up Ox Creek and this week's approval of a tax break for a new commercial and apartment building downtown. He also addressed the roads, saying more than $1.3 million has so far been raised with the new city income tax.
"We vow to make our streets safer, and as we collect all of the income tax dollars, we plan to begin fixing the roads in June and moving forward throughout the summer."
Muhammad said more development is needed to bring in residents and increase the tax base. He said he wants to see businesses all along Main Street, and not just in one area. The mayor closed by urging everyone not to focus on what Benton Harbor has been, but what it can be. He told the crowd "God is not through with Benton Harbor."