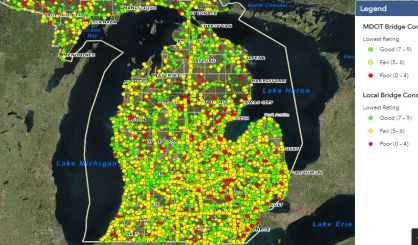 The Michigan Department of Transportation has launched a new online dashboard to make information about the condition of bridges around the state known to the public. MDOT Deputy Chief Bridge Engineer Beckie Curtis tells WSJM News the site includes data on more than 11,000 bridges. It goes over the state of each.
"We also then try to relate what those conditions mean in terms of what type of work is required for that structure, and we show how the condition ratings reflect in the good, the fair, and the poor categories," Curtis said.
The map shows Berrien County has a handful of bridges rated as poor.
"A bridge that's in poor condition is a candidate that's meant for replacement, or a major rehabilitation," Curtis said. "There's something with the bridge that in the near future should be addressed."
Curtis says when you drive over a bridge, you're only seeing a small part of its condition. The dashboard includes substructure and other stats. You can find it right here.