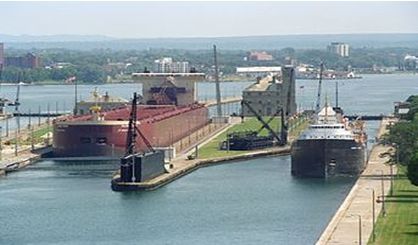 The Great Lakes shipping season has opened with the first ship passing through the Soo Locks just after midnight Monday morning. Linda Hoath is the executive director of the Sault Ste. Marie Visitors and Convention Bureau, and was there to greet it.
"We miss the ships that go by everyday, so to have them not around for a couple months and now they're back, it's exciting," Hoath says. "And we get people up here from all over."
Hoath says they gave the first ship a plaque and hats for everyone on board to commemorate the occasion. The first ship was the Stewart J. Cort, which is also the first thousand-foot freighter on the Great Lakes.