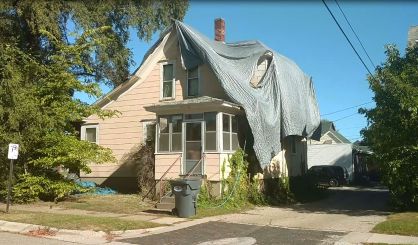 If you were among the area residents expecting to see bulldozers or other equipment knocking down the so-called "Tarp House" at the corner of Niles and Hoyt in the city of St. Joseph at the end of this week, set aside that expectation. The owner of the home is continuing to fight the city in court over the demolition order, as an appeals court ruling earlier this year in favor of the city set March 29 as the deadline for the demolition. St. Joseph City Attorney Laurie Schmidt says the homeowner and his attorney are petitioning the Michigan Supreme Court for yet another appeal.
"They're requesting the court's permission to file the appeal, so that's where it stands right now," Schmidt said Monday night.
There is no guarantee the request will be accepted, and if the state Supreme Court rejects it, that could be the final option.