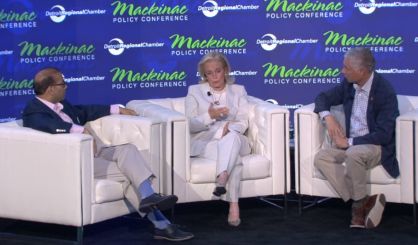 Partisan divides can be overcome by putting in the effort to get to know people. That's the bottom line from a panel discussion at the Detroit Regional Chamber's Mackinac Policy Conference between Democratic Congresswoman Debbie Dingell of Dearborn and Republican Congressman Fred Upton of St. Joseph. Dingell says she tells students to stop texting and call people or talk to them face-to-face. She adds when it comes to next year's election, she's told the Democratic National Committee they're wrong to exclude Fox News from their 2020 presidential debates.
"I've done Fox since 2000. I don't think you write off a whole group of viewers," said Dingell. "I think it's important you talk to everybody, and you listen to everybody."
The two were asked what issues could be quickly solved if people would listen to each other and put party politics aside. Upton's answer was quick.
"Immigration. It is such a broken system today, and it is a crisis on the border and it's gotten worse. But if we could have a free-standing vote, we could get this thing done," said Upton. He referenced farmers and other business owners that rely on labor from other countries, and said the Dreamers who were brought to this country as children and are now adults remain in fear someone will knock on their door and send them away. For Dingell, the answer was enacting a law to protect people with pre-existing conditions from losing their health insurance coverage.
The two also put a good deal of the blame for the deep divide in the country on social media.
"Sad thing about social media is those who started it founded it to connect us, and it's driving us further apart," said Dingell. Upton pointed out an example from just hours before when the state's congressional delegation announced a focus for much of its effort this year on keeping Asian carp out of Lake Michigan.
"You'd think that would be a 100% issue. We know the impact of that. But we got negative comments on social media," said Upton. "It's just amazing how nasty some people are."
The two are long-time friends and are part of the bipartisan Problem Solvers caucus on Capitol Hill.