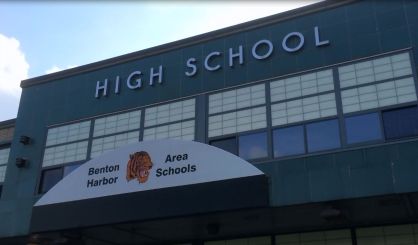 Social media has been lit up by alumni of Benton Harbor High School who are objecting to the plan by the state to shut down their alma matter in the spring of 2020. Shantel Booth graduated in 2013 and went on to graduate from Kentucky State University before returning to the area to work for Spectrum Health Lakeland.
"School was my life, and it's like that for a lot of students now," Booth told our partners at WSBT-22. "Taking that away from them so abruptly is so wrong."
Damarco James attends Michigan State University and graduated from Benton Harbor in 2015. He says judging student success and readiness can't always be measured by test scores. He says there are great achievements that are being overlooked or ignored by the state.
"Benton Harbor has some phenomenal and dedicated educators," James says. "It's better if we look at the actual experiences people are having and use that as a way to measure the outcomes for students, not just strictly by numbers."
James adds the school is the heart of the community, and says other solutions need to be explored first. The school board was given a take-it-or-leave-it plan by the state last Friday to close the high school in exchange for millions of dollars in debt relief, or risk running out of money with no ability to borrow more in March and have the entire district dissolved.
The school board is calling for Governor Whitmer to attend their next meeting on Tuesday, June 4 at Benton Harbor High School so she can see first-hand the impact closing the high school will have on people and not just make a decision over how something looks on paper.