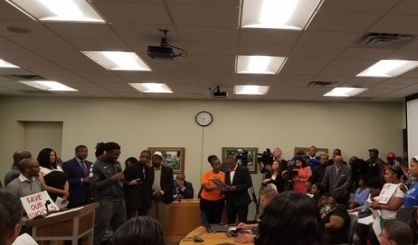 It was a packed house at Benton Harbor City Hall Thursday night, as guests from throughout Michigan called on the state to keep Benton Harbor High school open.
Pastor Charles Williams of the National Action Network said what happens in Benton Harbor is a test case for elsewhere.
"I don't want to see our black children dispersed throughout this county, and have to face teachers who don't give a damn about them," Williams said to applause.
Former Benton Harbor High School Principal Rodger Tripplett noted there hasn't even been local control at Benton Harbor Area Schools for years, laying recent problems at the high school at the state's feet. The Reverend David Bullock of the Change Agent Coalition took Governor Gretchen Whitmer to task, leading everyone in a chant of "Shut Whitmer down."
"You want to 'fix the damn roads', but you don't want to help the damn people," Bullock said.
Bullock told the crowd not to let the governor destroy their community by shutting down the high school. Mayor Marcus Muhammad also wanted send a message to the administration, telling reporters to "let them know it's on."
Governor Whitmer has been invited to next Tuesday's Benton Harbor Area Schools Board of Education meeting at the high school.