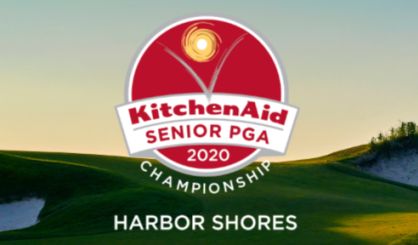 It'll still be a few months before all the PGA signage and KitchenAid displays go up at Harbor Shores in Benton Harbor, but the PGA is getting ready behind the scenes to host the KitchenAid Senior PGA Championship in Benton Harbor for the fifth time. Championship director Ryan Ogle says everything starts with their army of volunteers, and they're lining those up now.
"We're starting the process of promoting the championship and are recruiting volunteers," Ogle tells WSJM News. "Already over 60% of our over 1,600 volunteers have answered the call to help with our championship." Those slots opened to everyone who hasn't previously volunteered a few weeks ago.
Ogle adds they're excited about some of the golfers eligible to be on the course for the first time in May of 2020.
"The biggest two that come to mind are Jim Furyk, past Ryder Cup captain and a Major winner, and Ernie Els, who has been a major championship winner. Those are the two big names turning 50 over the next year who will be eligible to play," says Ogle.
Whether or not they do, we won't know until closer to the time the golfers tee off. Retief Goosen is another who will be eligible for the first time next year, but fans will have to wait until 2022 for Phil Mickelson. While "Lefty" turns 50 next year, his birthday is about three weeks after the championship is played in Benton Harbor. As of now, the championship will remain in Benton Harbor in even-numbered years through 2024, and that partnership could be extended provided KitchenAid remains the title sponsor.