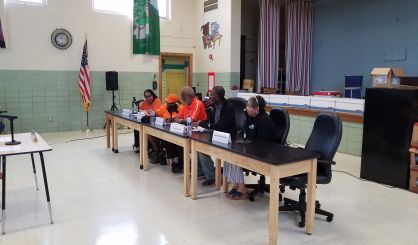 The Benton Harbor Area Schools Board of Education wants to continue working with the state on finding a solution to the school district's problems. At a meeting today, the board turned down a May 24 proposal from the governor's office to suspend operations at the high school in order to resolve a large part of the district's debt. Reading a motion, board Vice President Joseph Taylor said the board would prefer not to issue a response out of concern of dividing the community, but its attorney advised a response was needed.
"We believe the board may advise the governor's office that it will not agree to the proposed plan that includes closing the high school within the district and busing our students to other school districts within the county," Taylor read.
Taylor's motion to turn down the plan was approved unanimously. He went on to say the board wants to submit to the state more details of its own "third option" for keeping the high school. Board President Stephen Mitchell told us a meeting on Wednesday with the lieutenant governor and other state officials left him feeling optimistic.
"They did not reject the plan. They more or less liked the plan. However, they wanted some additional meat put on the bones, so to speak, and so we're going to revise it somewhat to accommodate MDE's questions and concerns."
Taylor said at today's meeting that he has been encouraged to see the community become engaged in the district. He asked everyone to continue being engaged, and not just when there's an emergency. Whitmer administration spokesperson Tiffany Brown issued a statement after the meeting. That full statement is below.
"Governor Whitmer, Lieutenant Governor Gilchrist, and Treasurer Eubanks have spent the past few weeks listening to Benton Harbor school board members, community leaders, students, and parents to hear their thoughts and ideas. The governor's number one priority is putting students first and making sure every child in Benton Harbor has a path to postsecondary success.

"The state is currently reviewing the plan that the Benton Harbor school board put on the table this week, and the governor plans to continue working with the school board to ensure K-8 students have the support they need and to ensure high school students are on track to graduate postsecondary with a degree or skills certification."
The school board's deadline for responding to the governor's proposal is the end of today.