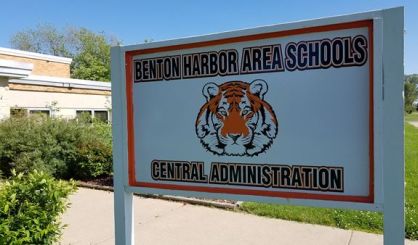 Details of the proposed "tentative joint plan" between Benton Harbor Area Schools and the state of Michigan to keep the district's high school open have been released by the Michigan Department of Treasury.
Posted online Monday, the state plan would give the district one year to meet certain benchmarks. The plan states "If BHAS meets all the benchmarks that were outlined in the agreement during the 2019-2020 school year, the district will remain intact, and continue to make meaningful progress on improving student outcomes and achieving financial stability."
Examples of the required benchmarks will include hiring a "highly-qualified superintendent," increasing the number of certified teachers, making "attainable increases in student growth and proficiency, as measured by assessments like M-STEP and SAT," and adopting a balanced budget.
The plan also calls for a July ""Day of Learning" to hear from national experts from nonprofit organizations who have a proven track record of turning around struggling districts."
The state plan states "If BHAS does not meet the Year 1 benchmarks outlined in the agreement, the Board agrees to suspend operations of the high school."
You can find the plan here under BHAS Tentative Joint Plan Overview.