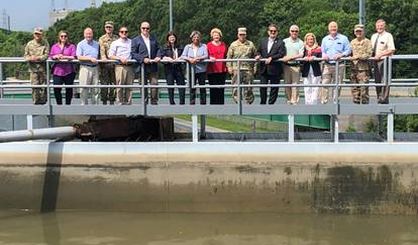 Michigan's congressional delegation has received an up-close look at the plans by the U.S. Army Corps of Engineers to try to stop the advance of Asian carp in Illinois.
"We're going to build a massive trap," says Congressman Fred Upton. "It's going to involve electric lines that stun the fish as they swim to the north and makes them pass out and hopefully float back to the south."
The Corps is planning to make upgrades at the Brandon Road Lock and Dam in Joliet, Illinois to keep Asian carp from reaching the Great Lakes. Upton and most of Michigan's congressional delegation visited the site Monday along with the director of both the Michigan and Illinois Department of Natural Resources, the Illinois National Guard, and Corps officials. Along with electric lines, Upton says the Corps has more ideas that will be implemented.
"Air bubbles and sounds to try to prevent these fish from swimming farther upstream and into the Great Lakes."
Upton says Asian carp would threaten the $7.5 billion fishing and tourism industry in the Great Lakes. He says if the fish are able to get in, we'll "probably never be able to get it out."
The project will cost over $1 billion.