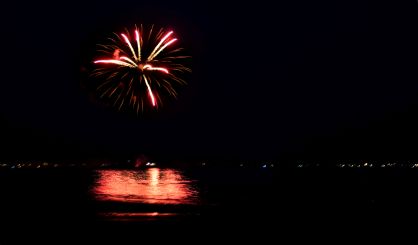 Michigan State Fire Marshal Kevin Sehlmeyer wants everyone to be clear on the fireworks laws now that the week of Fourth of July is here. He tells WSJM News state law outlines 12 days when fireworks are allowed statewide.
"The law sets forth the minimum days that it has to be allowed," Sehlmeyer said. "We're currently in that day cycle right now. So June 29 through July 4, in any jurisdiction in Michigan, you can set off fireworks."
Sehlmeyer says a local government can't override that. Sehlmeyer says while we're now in a period during which fireworks are allowed, you need to check with your local government at other times. As for what you're allowed to buy, a credentialed retailer will only have those items.
"They're clearly marked 1.4 on the fireworks. That's a consumer grade fireworks.  When you get into the 1.3s, you're talking about the bigger stuff that's shot at the shows, and that's not what a consumer can buy."
Sehlmeyer reminds everyone to only shoot off fireworks at least ten feet away from a structure and on private property. When you have a dud, he says let it go and just submerge it in water.
In a letter to The Detroit News, Sehlmeyer identified the following times as when fireworks are allowed statewide:
"If a local government chooses to restrict fireworks in their municipality by passing a local ordinance, state law requires that fireworks must be allowed on the following days, after 11 a.m.:

Dec. 31 until 1 a.m. on Jan. 1

The Saturday and Sunday before Memorial Day, until 11:45 p.m.

June 29 to July 4, until 11:45 p.m.

July 5, if it falls on a Friday or Saturday, until 11:45 p.m.

The Saturday and Sunday before Labor Day, until 11:45 p.m."