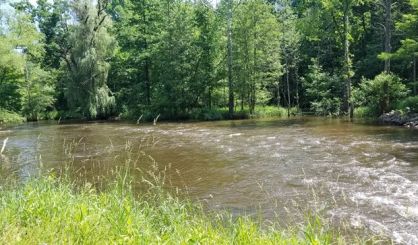 The Southwest Michigan Planning Commission is highlighting the growing popularity of the Paw Paw River Water Trail. Senior planner Marcy Hamilton tells WSJM News the trail goes from Paw Paw to Benton Harbor for about 60 miles for canoers and kayakers. 17 municipal, civic, and tribal organizations contribute to its maintenance.
"Over the winter and in the spring when we have a lot of storms, tress fall across the river and cause blockages," Hamilton said.
Hamilton says the communities along the trail pay for that to be cleared. They also pay to promote the trail. Hamilton tells us the communities reap benefits from people using it.
"It brings these communities that are on this river, it brings people to their town. So to towns like Lawrence and Hartford, and Watervliet and Coloma, where they have bars and restaurants and breweries and things that people like to visit after they go paddling for the day."
Hamilton says there are goals to add more access points along the way, noting some stretches of the trail can go a ways into the wilderness. Villages, cities, and townships including Paw Paw, Lawrence, Hartford, Watervliet, Coloma, Hagar, and Benton support the trail, along with the Pokagons and Cornerstone Alliance.