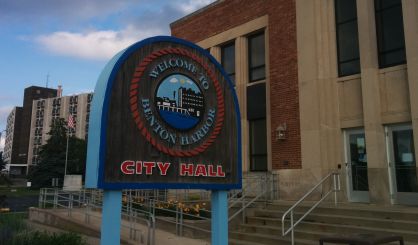 Benton Harbor City Commissioners have signaled their intent to sell the city-owned property at 200 Paw Paw Avenue. At a Monday meeting, they voted to move forward with the possible sale of the parcel to Justice Grown, a medical marijuana operation out of Chicago. City Manager Darwin Watson said the move means details of a sale can now be worked out.
"Specifics of it — purchase agreement, price, all of that — have not been done," Watson said. "The first thing that we have to do is the commission has to say that they have the intent to sell the property. "
After details are determined, then the commission would vote on the sale. Mayor Pro Tem Duane Seats said if the sale doesn't happen, the building at 200 Paw Paw will continue to deteriorate.
"The roof's leaking, kids are busting out the windows, the front window's busted out, the doors. So, we have to do something with the property."
Seats said the city could find itself with another Armory on its hands if there isn't a sale. Justice Grown's website says it has a social justice mission, giving back to the community. Seats said it works to help those who have been wrongfully arrested.