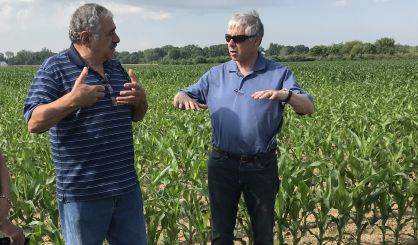 Southwest Michigan farmers are taking it on the chin this year with much more rain than normal combined with imported commodities undercutting what they can sell for. Sodus Township farmer Russ Costanza welcomed in Congressman Fred Upton along with state Senator Kim LaSata and state Representative Pauline Wendzel on Tuesday to give them a look at the struggles being faced.
"We're hanging on by our teeth right now," said Costanza. "Profitability hasn't been there. The last three years have been prices of 10 years ago, 15 years ago."
Costanza says most of his tomato plants are bearing fruit that will be rejected due to the weather problems. Standing at the edge of the corn field at Costanza's farm, Upton noted the stalks are considerably shorter than they should be at this time.
"I know they say 'knee high by the Fourth of July but traditionally it should be much higher than that," said Upton. "This is weeks behind and if you think about fall and if we have more rain or freezes, it's over."
Upton also met with farmers in Paw Paw and Scotts during the day Tuesday.