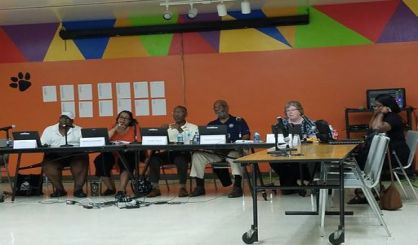 A proposal from the state that would give Benton Harbor Area Schools one year to show progress toward a turnaround or face closure of its high school is being rejected by the local board of education. At a meeting Tuesday night, board Trustee Patricia Rush said the board has had a good relationship with the Michigan Department of Treasury and elected representatives of the Michigan Department of Education, but she panned the governor's staff.
"In my entire 40 year professional career, I have never been treated the way we have been treated, the whole board has been treated, by the representatives from the governor," Rush said. "Disrespectful, intimidating, and lying."
Rush said the board has not agreed to the plan posted online by Treasury on Monday. She said many people have incorrectly believed otherwise. Rush also called on Governor Gretchen Whitmer and the lieutenant governor to give the board new negotiating partners.
"I am calling on the governor and lieutenant governor, who I am hoping will see this clip, to give us new people to negotiate with because the people who are negotiating with us lied to our face, distort what we're saying, and put intimidating material out about this board. We are going to fight back. We will not tolerate this."
The packed house at Tuesday's meeting also disapproved of the state plan. Benton Harbor Mayor Marcus Muhammad said the "indecent proposal" is "a plan to fail"
"But this document looks like a plea deal, and I know that the governor has a background as a prosecutor, but the citizens, the students, the staff at Benton Harbor High School and Benton Harbor Area Schools are not guilty."
A handout at Tuesday's meeting said "BHAS Board will never agree to a proposal including possible closure of Benton Harbor High School." The board voted down a resolution stating that the Benton Harbor Board of Education believes the best way to achieve its goal for students "is to work collaboratively with the state government to develop a plan that would establish attainable benchmarks for success and accountability."
Following Tuesday's board meeting, Governor Gretchen Whitmer spokesperson Tiffany Brown sent us the following statement:
"The Benton Harbor school board's action tonight to vote down the resolution to put students first is a setback for Benton Harbor students, parents, and the community. By voting not to accept this proposal – which was developed with direct input from BHAS board members and attorneys – board members are sending a troubling signal to parents that they are unwilling to negotiate in good faith to address the district's academic and financial challenges.  The governor remains committed to finding a solution that puts Benton Harbor students first."
Attached below is the opening statement made by Benton Harbor Area Schools Trustee Patricia Rush at Tuesday's meeting. Click the Play icon to hear it. Readers on the Town Crier Wire must use a browser and view this story at WSJM.com in order to hear the audio.