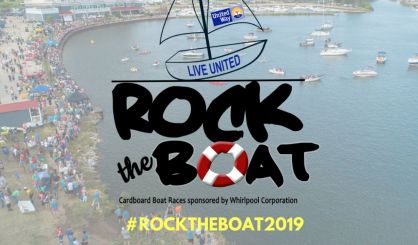 The United Way of Southwest Michigan is planning for the next Whirlpool Rock the Boat cardboard boat races this month. Spokesperson Jennifer Tomshack tells WSJM News the event features teams racing boats made of cardboard in the St. Joseph River at The Inn at Harbor Shores.
"They're made of cardboard, duct tape, and polyurethane," Tomshack said. "Just those three ingredients, and we're kind of strict about it. You can't trick them out too much, and they're powered entirely by human paddling. No motors allowed."
This year's event will feature the most competitors yet.
"It's going to be a record year. We have 75 boats. Last year, we had 64, the year before it was 30, and the very first year we only had 5 boats."
Tomshack says the registered teams come from organizations that include Whirlpool, American Electric Power, the United Way, and more. They'll shove off in 25 different heats starting at 5 p.m. on Thursday, July 18. The public is invited to come out and watch the action for free, and there are other special events scheduled for the day. You can learn more right here.