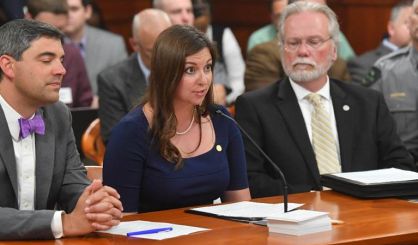 State Representative Pauline Wendzel is preparing to hold her first town hall meeting next week with a focus on auto insurance reform, road funding, and where the state budget currently stands. The Watervliet Republican says it felt like the right time to hold one.
"I've been in about six months now and thought it was time to get back to the district and talk to the people about what we've been doing in Lansing, what's going to continue the next couple months hopefully with the road funding and our budget being passed, and just answer some questions," Wendzel tells WSJM News.
She'll be joined by area state Senators Aric Nesbitt and Kim LaSata along with Representative Jason Wentworth from northern Michigan, who was the House's point person on auto insurance reform. Nesbitt's Senate Bill 1 was what was enacted earlier this year, and Wendzel says that law was a good start.
"It's a step in the right direction, and that's what's important," said Wendzel. On the campaign, she said more than one person got in her face and waved their auto insurance bill at her with the message of 'fix it.' "I'm excited to have some people coming from Lansing to explain what the changes will be and what will happen in the next year."
The town hall will be Thursday, July 18 at Kinexus in Benton Harbor from 5:30 to 6:30 p.m.