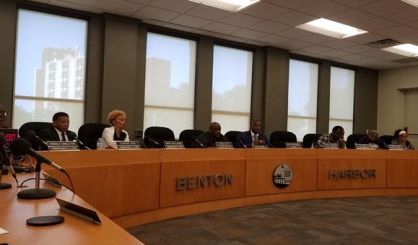 Darwin Watson is no longer the city manager of Benton Harbor. At a special meeting Monday night, the Benton Harbor City Commission fired Watson. The vote was five to three, with Commissioner Edward Isom, Mayor Po Tem Duane Seats, and Mayor Marcus Muhammad voting no. Commissioner Sharon Henderson was not present, and the rest of the body voted yes. Prior to the vote, Pro Tem Seats said if any commissioners have an issue with Watson, they should try to correct him rather than firing with no public explanation. He pointed to years in the past when the commission would fire managers and then get sued.
"Do we want to continue 1980 politics because that's what it seems like we're going back to, the same road as the 80s, the 90s when we just fire somebody because we can," Seats said.
Speaking for the city manager, Mayor Marcus Muhammad said Watson led the city out of state control and "an abyss of financial disarray."
"He has been able to have four consecutive balanced budgets, he has been able to engineer three consecutive clean audits with the last audit being unmodified. We have a $4 million surplus. We have a rainy day fund that floated the Community and Economic Development Department when the federal government was shut down."
Muhammad added Watson implemented the new city income tax, and said there have been no scandals with him in the manager's office. Watson said he has worked for the city for 23 years because he loves it.
"And for my people to come at me for those personal reasons is not professional. It's not professional. It is strictly personal. I'll tell that to anyone. And to look me in the eye and say that it isn't, I have to question your character because that's exactly what it is."
Watson said the worst part of the discussion was that "there has been nothing said, just you're done." After the vote to no longer accept Watson's employment, the former city manager left and the discussion turned to what's next. In the end, the commission voted to declare an emergency and turn the matter over to the Personnel and Finance Committee so a search can begin for a new manager. Commissioners voting in favor of Watson's firing did not state a specific reason.