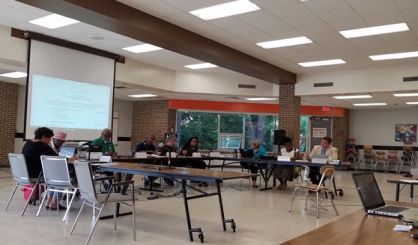 The Benton Harbor Area Schools Board of Education has a proposal of its own for turning around the district. At a Tuesday meeting, the board unanimously approved what it says is a comprehensive plan that would continue the cooperative agreement that was ended when the state School Reform Office went away at the start of July. The district's attorney said the state ending the cooperative agreement was tantamount to ending a contract early. Therefore, the board seeks a commitment to keep the high school open for at least four years while several performance benchmarks are met. Interim Superintendent Patricia Robinson spoke with us about the board's proposal after the meeting.
"It has some comprehensive goals in it that I think are realistic for our district," Robinson said. "Unlike the other plans that we've had, this plan involved many key people within the district, our district staff, and also looking at some trend data for the past two years."
The board seeks a liaison from the Michigan Department of Education, pledges to maintain a balanced budget and deficit elimination plan, recruit certified teachers, and retain 75% of staff year to year by the fourth year. Robinson said Governor Gretchen Whitmer has indicated a willingness to work with the district.
"It's encouraging, and I'm also hopeful that we can move forward with this plan, and I know the governor is open to negotiating some of the things that are in the plan."
Another big part of the board's plan is to seek an $8.5 million bond from voters to pay off debt. It would amount to one mill per property. Board President Stephen Mitchell said "we're going to have to ask the public for some help." The board's plan will be sent to the governor, the Michigan Department of Treasury, and Michigan Department of Education. It will also be posted online.