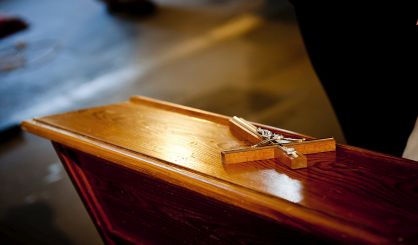 By Doug Cunningham
Bishop Paul J. Bradley of the Archdiocese of Kalamazoo says a day of prayer for peace and an end to violence observed by 59 parishes throughout southwestern Michigan was to focus attention on how critically important dignity and respect for all human life is. Bishop Bradley says in the wake of horrific mass shootings, racial hatred and the moral issue of how migrants are treated at our borders we must remain a prayerful, faithful and hope-filled people.
"To have a day of prayer is really I think to kind of re-focus people on that very basic point and to ask God's help, God's grace. To ask God to soften people's hearts, to ask God to help us to be instruments of change."
Bishop Bradley says hearts hardened by hatred are helping to drive the mass shooting and other horrific violence that permeates our culture.
"And it's not only troubling, it's frightening. Some numbers show more than 200 shootings involving more than four people over this year. Hardened hearts, hearts that are certainly being motivated by as it's been proven many times, hatred."
Bishop Bradley says "Such unspeakable and indiscriminate taking of human lives reflects a troubling trend in our culture as we see the eroding of the value and dignity of all human life." He urges all of us instead to soften our hearts and work for peace