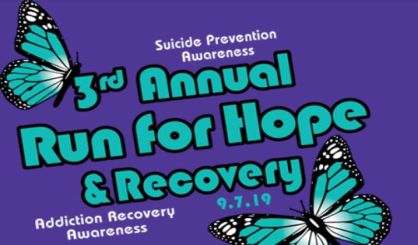 Set for September 7 is a 5K run in Benton Township to benefit two Berrien County non-profits. Marianne Groth with the SWMI RACERS tells WSJM News it's the third annual Run for Hope and Recovery.
"The main purpose of the event is to raise awareness and funds around the two mental health issues of suicide and addiction, and so we are promoting suicide prevention awareness and addiction recovery awareness," Groth said.
The money raised will go to the Berrien County Suicide Prevention Coalition and the COPE Network. Groth says the race will take off from the Berrien County Health Department building on Napier Avenue at 9 a.m. and go down Euclid to Empire with sheriff's department support. She tells us the Racers wanted to benefit the two organizations because they work to help people by focusing on mental health. According to a study of medical examiner reports, in 2018 there were 28 suicides in Berrien County. Meanwhile, the COPE Network notes one out of three families is affected by addiction. You can learn more and sign up for the race right here.