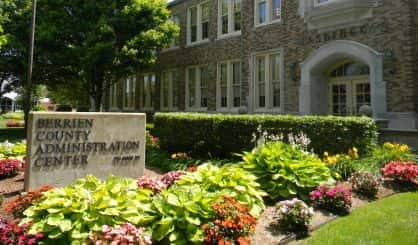 Berrien County Sheriff Paul Bailey and 911 Director Dave Agens have been honored by the Riverwood Center for their efforts to help ensure those experiencing a mental health crisis get help instead of winding up in the criminal justice system. At Thursday's Berrien County Board of Commissioners meeting, Riverwood Jail Diversion Supervisor Gretchen Carlson presented the two officials with awards. Carlson told us 911 dispatch can be helpful when to comes to crisis intervention.
"911 assists us in identifying calls and then linking these calls, and then there's also some statistical data that's sent to Wayne State University to help identify the scope and sequence of mental health crisis we have in our communities," Carlson said.
Carlson says 911 can alert police when they're responding to a situation involving someone with a mental health issue. Riverwood has offered its crisis intervention team training since 2015.
"We do the training twice a year. It's the sheriff's initiative to have his deputies trained. This is an ongoing training, and we also open it to all officers in Berrien County."
Sheriff Bailey said Thursday that crisis intervention team training enables police to help someone before they violate the law. Carlson said Bailey helped to organize a CIT conference last year.